Thanks to Canada's reputation as a destination of choice for immigrants, Canada has exceeded the original targets set in the current immigration levels plan for 2021-2023. The number of new permanent residents welcomed in 2021 represented the most immigrants Canada has ever received in a single year. This surpasses the original record set more than a century ago, in 1913. Immigration Refugees and Citizenship Canada recently announced a new immigration levels plan for 2023-2025. The government plans to increase the target for the number of permanent residents every year, similar to the current immigration levels plan. With a target of 465,000 permanent residents next year, Canada plans to welcome half a million new permanent residents by 2025.
The announcement also reaffirms the government's intention to focus on attracting skilled newcomers to different areas of Canada, particularly small towns and rural communities. Census data has shown that more immigrants are settling outside Canada's largest cities. In British Columbia alone, we are already observing the influence of immigrants choosing different regions of the province to call home. From 2016-2022, 22% of newcomers to Canada settled outside of Metro Vancouver, an increase from 19% from 2011-2016.
Immigration is key to alleviating some of the demographic challenges Canada could face due to the low birth rate and high life expectancy of the native-born population. These challenges include a labour shortage due to many Canadians reaching retirement age. In British Columbia alone, approximately 635,000 workers are expected to retire between 2021-2031. Labour shortages threaten the economy's expansion since employers are unable to hire the talent required to grow their businesses. As a result, Canada needs newcomers more than ever to bring their skills and experience to strengthen the country's labour market and economy.
According to Canada's last census, new immigrants accounted for 71.1% of Canada's population growth. Furthermore, the Canadian Government estimates that in ten years, 100% of Canada's population growth will be attributed to immigrants.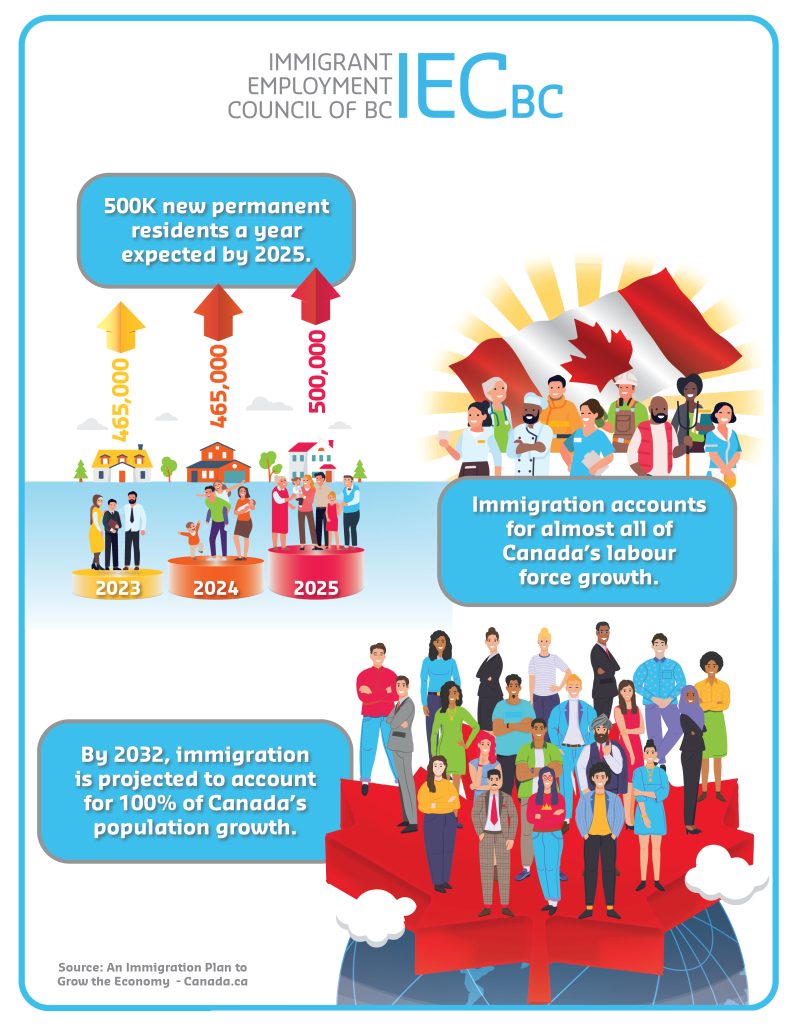 Other IEC-BC Infographics you might be interested in checking out:
Connect with us on LinkedIn, Twitter, and YouTube for articles, research, and videos about how #ImmigrationMatters and be the first to be notified.