Immigration is integral to Canada's pandemic recovery. In 2021, Canada welcomed the most immigrants ever in Canadian history – 405,795 new permanent residents – and almost one in five new immigrants chose British Columbia as their new home. The province is second to only Ontario as the intended destination for new Canadians. As a result, people born outside of Canada and moving to the region are becoming more important to BC's population growth.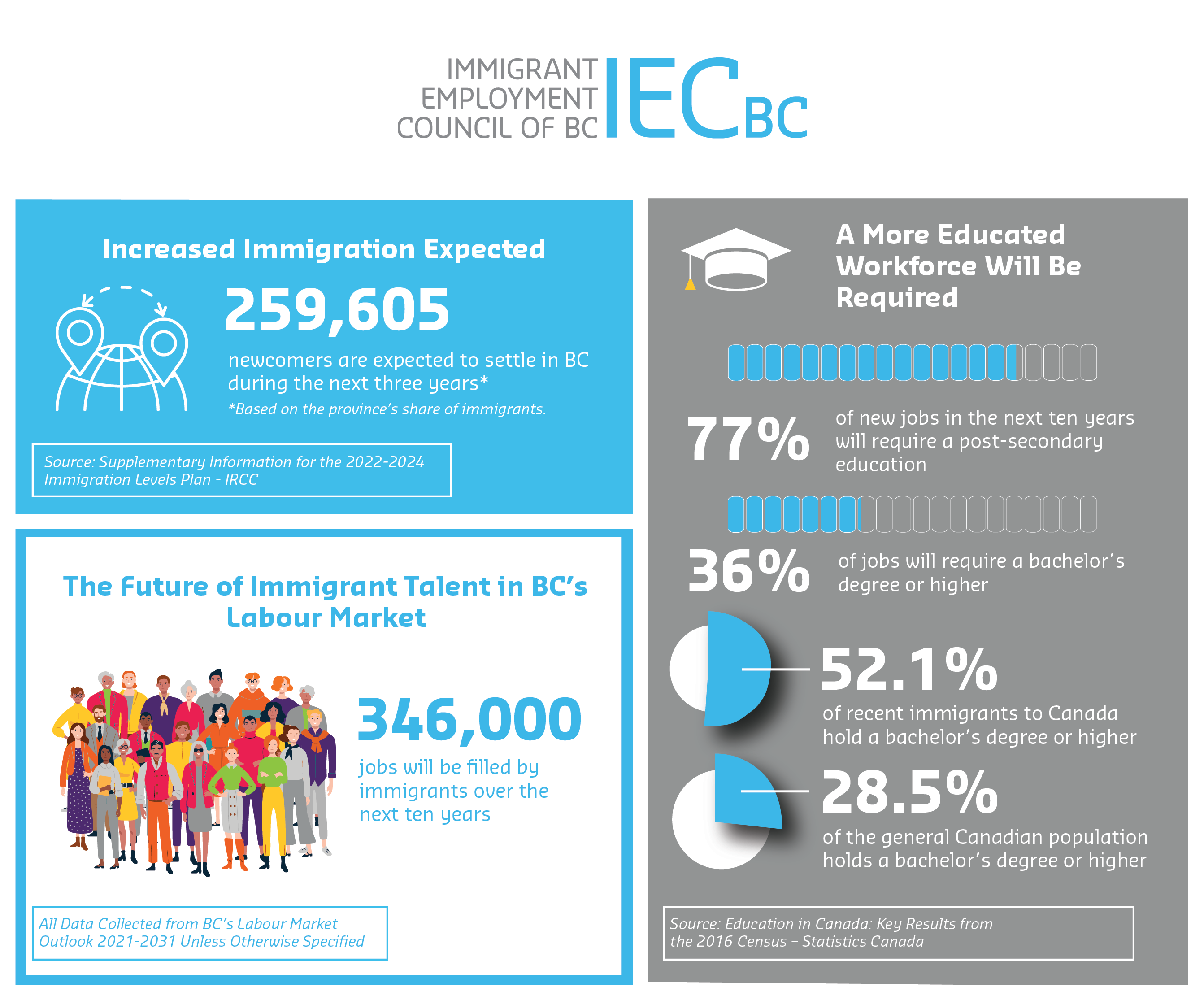 The BC Provincial Government has projected that over a million jobs will be added to the economy in the next ten years. Over three out of every four new jobs will require a post-secondary education and 36% will require a bachelor's degree or higher. To fill these roles, BC will need a more educated workforce. Welcoming talent from abroad will be part of the solution. Immigrants to Canada bring the credentials and work experience local employers are looking for. For instance, 52.1% of recent immigrants hold a bachelor's degree or higher compared to 28.5% of the general population in Canada. IEC-BC is here to help employers find and make the best use of that talent.
Based on targets provided by Immigration, Refugees and Citizenship Canada, BC is expected to welcome over 259,000 immigrants over the next three years however job vacancies are expected to increase in tandem with population levels. Between 2021-2031, the province anticipates 346,000 jobs will be filled by integrating new immigrants into BC's labour market.
Infographics IEC-BC has developed in the past include highlighting the job growth BC is expected to see in the next decade and the impact of IEC-BC's programs.
Connect with us on LinkedIn, Twitter, and YouTube for articles, research, and videos about how #ImmigrationMatters and be the first to be notified.