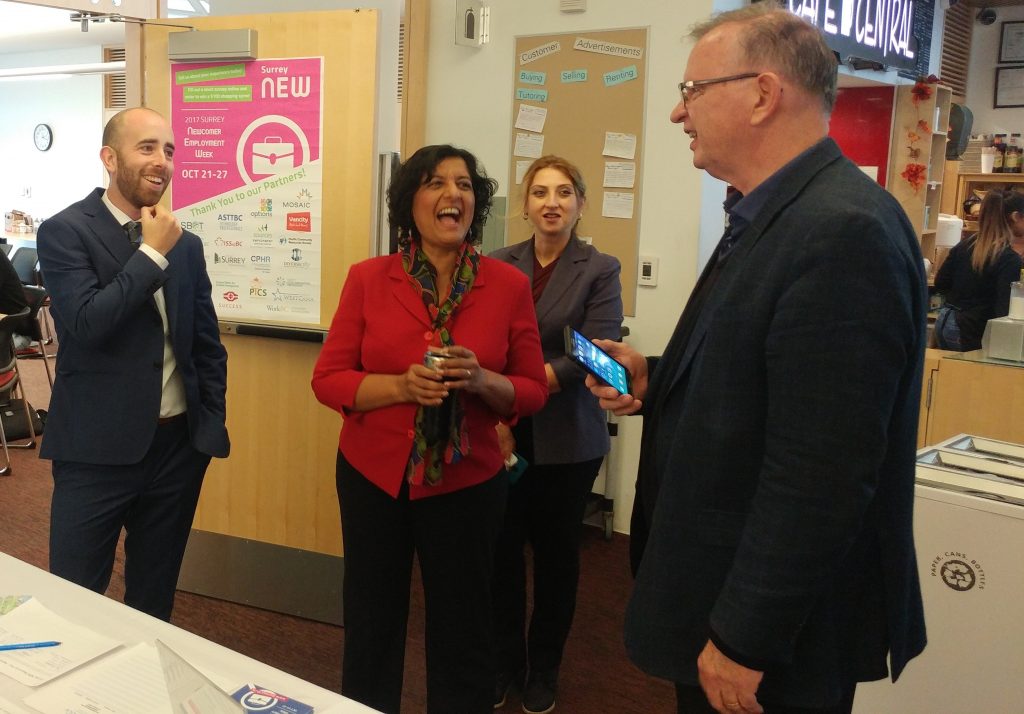 On October 22, IEC-BC welcomed skilled immigrants and refugees to Surrey City Centre Public Library to learn about a new online tool that seeks to connect employers to job-ready newcomers.  "BC JobConnect: Giving You a Career Headstart in Canada"  was held in partnership with Surrey Local Immigration Partnership , with event space donated by Surrey Libraries.
Intimate and interactive, the event allowed  some 20 attendees to learn about BC JobConnect and IEC-BC's other programs, as well as an opportunity to receive hands-on assistance setting up their profile which allows employers to contact potential candidates about open job positions.
Since April 2017, close to 200 employers have registered on BC JobConnect.  Twenty candidates have found employment through the online tool.
In attendance was Honourable Bruce Ralston, MLA of Surrey-Whalley and Minister of Jobs, Trade and Technology, who opened the event with encouraging words to  new immigrants.
"No one underestimates how difficult it is to get started, to get that first job, he said. "In Canada, we understand that. Persist, don't lose hope, and there are a lot of people here that are willing to help you."
There was also a surprise guest speaker, Qaiser Jamil, who shared his experiences seeking meaningful employment in Canada and offered advice on taking advantage of the many programs that IEC-BC has to offer. Jamil immigrated to Canada from Pakistan earlier in 2017 and, after taking part in IEC-BC's MentorConnect and Connector programs, was hired by BC Hydro as a Field Services Administrator.
"The purpose of the MentorConnect and Connector programs is to help connect you directly with a mentor or employer. Other organizations can also help you to prepare your resume and cover letter, and how to find a job or prepare for an interview, but IEC-BC helps you connect directly to employers and that is invaluable," Jamil said.
"With their advice, instead of applying for HR-specific jobs, I started to apply for administrative jobs that I also have experience in. Within two months, I was able to start working with BC Hydro as an administrator. It isn't an HR job, but I was able to find a very good job which also helps me gain Canadian work experience."
With a strong professional background in human resources and administration, Jamil hopes to pursue a Diploma in Human Resources Management at Ashton College and advance in that field.
The  event was part of the Surrey Newcomer Employment Week (NEW), which aims to build better bridges between newcomer job seekers and employers.