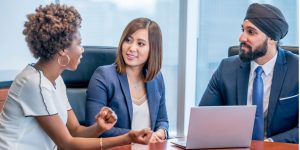 On May 21, over 100 contributors joined the launch of the #ImmigrantsWork campaign through a Twitter chat. The #ImmigrantsWork campaign aims to raise awareness of the meaningful contributions immigrants have made to the Canadian economy, as well as their continued impact in Canada's recovery from the COVID-19 pandemic. The launch convened influential voices on the critical role immigrants will play—now, and as the economy rebounds. This critical conversation reached over 30,000 individuals and resulted in the hashtag trending at number two in Canada.
The engagement in this discussion is rooted in a proud Canadian history of immigration and resounding awareness that immigrants have long been the backbone of Canada's economic growth. In more recent history, maintaining immigration levels following the 2008 recession contributed to the decade-long economic growth in Canada. Immigrant talent is just as needed today. As one-quarter of the Canadian labour force, immigrants will continue to be essential in plans to re-build and recover the Canadian economy disrupted by the COVID-19 pandemic.
Here is a summary of the key themes that emerged from the chat:
All industries in Canada have benefited from the contributions of immigrant talent. Importantly, in the fight against COVID-19, many immigrants have been on the frontlines, providing care in our hospitals and long-term care facilities and other essential services to keep Canada moving forward. As a country, it is critical that the contributions immigrants have made and continue to make during this unprecedented time are not forgotten as the economy begins to recover.
Immigrants are business-owners, contributing to economic growth and job creation in Canada. A 2019 study by Statistics Canada showed immigrant-owned companies had a higher level of job creation and were more likely to be high-growth companies than those with Canadian-born owners. Prior to the COVID-19 crisis, immigrant-entrepreneurs created 25% of new private-sector roles. As the economy begins to re-open, immigrant business-owners will be critical in fueling job creation in Canada.
Immigration will continue to be an important pillar of Canada's strategic growth post-COVID. The demographics that have plagued Canada prior to COVID-19 will persist after the recovery: an aging population and low birth rate mean immigration will continue to be an essential driving force of population growth in Canada. Immigrants increase the Canadian workforce potential and widen the tax-base necessary to support essential public services, like health care.
Diversity still matters and is an asset with a bottom-line impact. Countless research studies have demonstrated that diverse organizations are not only more productive and innovative, they also outperform their less diverse competitors by 33%. Diversity will continue to be a competitive advantage for businesses as they rethink their business model and seek innovative solutions for conducting business in the new economy. Immigrants represent a key component of this diversity, offering unique perspectives and experiences that can contribute to business reimagination.
Challenges persist in the inclusion of immigrants in the Canadian workforce. While the business case for diversity and the positive impact immigrants have had on the Canadian economy is overwhelmingly evident, they continue to face barriers in accessing employment that is commensurate with their education, skills and experiences. As businesses begin to re-build, employment practices need to be reimagined so the full potential of Canada's immigrant workforce can be realized. Improving the conditions for immigrants so they can thrive include effective international credential and work experience recognition and the adoption of non-discriminatory hiring practices.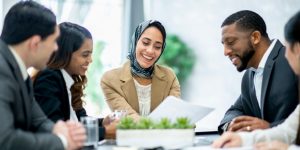 How Can You Support the #ImmigrantsWork Campaign?
Now is the time to support immigrant labour market inclusion in an intentional way if we want to make a quick and robust recovery from the economic slowdown brought upon by COVID-19.The coalition invites employers and others to share their ideas for immigrant inclusion in the workplace.
Here are some ways stakeholders can engage and contribute to the #ImmigrantsWork campaign:
Share a best practice for recruiting, retaining, and promoting immigrant talent. Tell us what works within your own organization. Please share inclusion programs, tools, resources, and tips that can foster greater immigrant inclusion in businesses. Get in touch with us.
Share a success story that profiles businesses that have adopted more inclusive programs or practices. Tag us in your posts on LinkedIn and Twitter.
Share a quote related to the importance of immigrant inclusion in Canadian workplaces, or advice to other businesses interested in recruiting immigrant talent.
If you have any questions about this campaign, or how to get involved, please contact us at, communications@iecbc.ca. Please consider lending your voice to the #ImmigrantsWork campaign. Join us on social media using #ImmigrantsWork on LinkedIn & Twitter.
*Please note: the term immigrant is used here to describe all residents in Canada that were born outside of the country. This campaign is not intended to advocate for one specific group of immigrants, but rather, all immigrants to Canada.