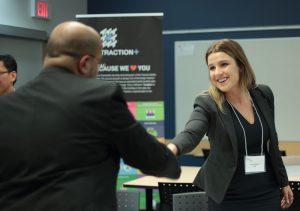 IEC-BC continues to seek out new ways to connect skilled immigrants with companies that are interested in creating a diverse and inclusive workforce. While networking events are nothing new, IEC-BC added a further element of interactivity at its inaugural Connections Networking Event on October 25, 2017.
The Connections Networking Event was part of the Surrey Newcomer Week and was designed to increase employers' awareness about the skilled immigrant labour pool in BC, while helping those who are new to Surrey learn more about the finance and technology sectors.
The event brought some 20 new immigrants with backgrounds in IT and finance together with representatives of Business Development Bank of Canada, Royal Bank of Canada, Chartered Professional Accountants of British Columbia, Traction on Demand, and Radical I/O Technology.
"When we spoke to companies and industry professionals in previous networking events, they wished they had a little bit more time to engage, get to know the person, to actually have a conversation," said Sangeeta Subramanian,  IEC-BC's Senior Manager, Workplace Development.
Instead of the usual 'speed networking' format that allows for only minutes of one-on-one interaction, the event allowed newcomers to Canada to take the time to practise their interview skills and learn about effective job search strategies and current hiring standards in the IT and finance sectors. They were also provided with evaluations from participating employer representatives to help increase their chances of finding meaningful employment.
Multiple studies and reports point to a rise in the job demand in IT and finance, and the economic benefits these sectors bring to Canada and to BC. According to a report by Advantage BC, the finance and IT services sectors are British Columbia's fastest growing industries.
IEC-BC chose to focus on these sectors during the initial networking event to help bridge the existing talent gap and equip new immigrants to BC with the skills and knowledge they need to succeed in the local labour market.
For many event participants, this was a unique opportunity to connect with company representatives face-to-face. "Understanding employers' expectations" and "getting ready for a job hunt in the industry" – these were some of the most important take-aways.
The event was held in partnership with SFU Surrey and Back in Motion Employment Services.