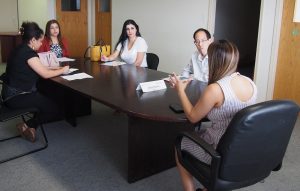 What are the current openings across the Lower Mainland and how can you advance professionally within the company?
These were some of the questions discussed at the Connections Networking event co-hosted by IEC-BC and The Brick on August 21, 2018, for 18 newcomers in Canada who are interested in pursuing careers in the retail industry.
"We are expanding continuously, and we are looking for people to fill positions and advance themselves within the company," said Craig Wensel, Regional Director of Stores at The Brick, opening the event.
The small-group event format allowed for in-depth conversations about the different aspects of the company's  hiring process, its corporate culture, and, most importantly, the personal experiences of people who are part of The Brick.
"It was very inspiring to hear about the stories of people working here, where they started and what paths they took," said Aryan Ranjbaran who is looking for a career in Trade Marketing and was part of the event.
Since 2016, IEC-BC has been hosting regular Connections Networking events with partners in different industries  to raise employer awareness about the immigrant talent pool that has made BC home.