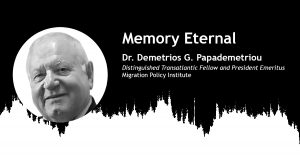 The following is a message from IEC-BC's CEO Patrick MacKenzie.
I am deeply saddened to hear of the passing of Demetri Papademetriou. As a young man he left his native Greece for the United States where he became a world-renowned expert on migration whose influence on immigration policy will be felt for generations to come. He gave his time generously to the Immigrant Employment Council of BC, providing counsel to our board, to our partners and to me.
His professional accomplishments are many.  He founded both the Migration Policy Institute and the Transatlantic Council on Immigration and was an advisor to countless heads of state.  Yet his professional accomplishments pale in comparison to the impact he had on those of us lucky enough to be counted among his friends.  We will remember his warmth, wit, and kind spirit.  One left any encounter with Demetri feeling buoyed thanks to his uncommon mix of brilliance and kindness.